Installation Windows
Learn how to install BELLATRIX tools on Windows OS.
Overview
BELLATRIX is not a single thing it contains multiple framework libraries, extensions and tools. The tool is built to be cross-platform, however some of the features can be used under Windows since they are written for Visual Studio.
Before proceeding with the installation, please read the system requirements system requirements and install all prerequisites!
Installation Steps Visual Studio
Download BELLATRIX UI Installer x86 version or x64 version
Run Bellatrix.Installer.UI.msi
Getting Started With BELLATRIX in 15 Minutes
See how you can install BELLATRIX also create your first project and test. We will create an automated test to log in to a website and verify afterward whether we succeeded. After you install the product, you need to create a starter kit project to see how to use all features or create an empty BELLATRIX tests project. Learn more
Read how to use all installed features:
Installation Steps Visual Studio Code
There are not snippets, item or project templates for Visual Studio Code. The way you create BELLATRIX project is through CLI.
Before you can create a new project, you need to install the template first.
All available templates:
Bellatrix.API.GettingStarted
Bellatrix.API.MSTest.Tests
Bellatrix.API.NUnit.Tests
Bellatrix.Desktop.GettingStarted
Bellatrix.Desktop.MSTest.Tests
Bellatrix.Desktop.NUnit.Tests
Bellatrix.Web.GettingStarted
Bellatrix.Web.MSTest.Tests
Bellatrix.Web.NUnit.Tests
Install Template
dotnet new -i Bellatrix.Web.GettingStarted

Create Project from Template
Open the folder where you want the files to be placed
Open CMD
Type the below command for the desired template
dotnet new Bellatrix.Web.GettingStarted

Getting Started projects contain examples, demos and exercises. It is recommended to create such a project first and test the BELLATRIX tools and libraries. After that, you can use "Tests" templates which generate empty preconfigured BELLATRIX projects depending on the technology- Web, Desktop, API, MSTest, NUnit.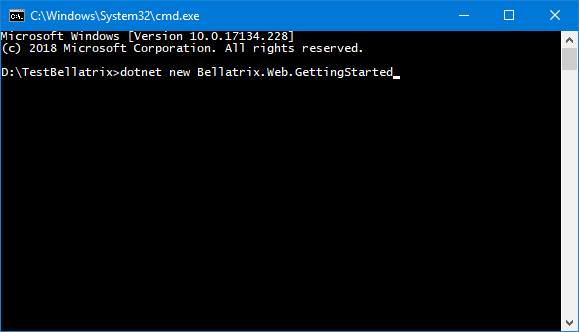 Testing on Remote Machines
To execute your tests on a remote machine or multiple machines you can use Automate the Planet open-source distributed test runner Meissa.
You can download it from the site. To get started read Meissa Docs.